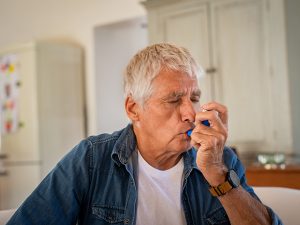 Winter is nearly here – get your Asthma Management Plan
With winter coming we encourage our patients with asthma to come in and get your Asthma Management Plan in place so you are prepared for the cold weather.
What is asthma?
Asthma is a common medical condition that affects the small airways of the lungs. During an asthma attack, the lining of the airways swell, there is a build up of mucous
(phlegm) and the muscles around the airways tighten. This causes a narrowing of the airways (bronchoconstriction) and makes it difficult to breathe.
For more information about Asthma click HERE
COPD – Chronic Obstructive Pulmonary Disease
With winter coming we encourage our patients with COPD to come in for a management plan to have on hand during the cold weather.
What is COPD?
Chronic obstructive pulmonary disease, commonly referred to as COPD, is a group of progressive lung diseases.
The most common of these diseases are emphysema and chronic bronchitis. Many people with COPD have both of these conditions.
Emphysema slowly destroys air sacs in your lungs, which interferes with outward air flow. Bronchitis causes inflammation and narrowing of the bronchial tubes, which allows mucus to build up.
It's estimated that about 30 million people in the United States have COPD. As many as half are unaware that they have it.
Untreated, COPD can lead to a faster progression of disease, heart problems, and worsening respiratory infections.
Read more about the symptoms and treatment of COPD HERE
Healthy Hearty Meal for those Cold Nights
Low Cal Chicken and Mushroom One Pot
INGREDIENTS
2 teaspoons olive oil
1kg Lilydale Free Range Chicken Thigh, trimmed, halved
300g button mushrooms
2 large celery sticks, finely chopped
4 French shallots, peeled, finely chopped
2 garlic cloves, crushed
1 tablespoon salt-reduced tomato paste
125ml (1/2 cup) white wine
400g can diced tomatoes
185ml (3/4 cup) Massel Salt Reduced Chicken Style Liquid Stock
1 tablespoon fresh thyme leaves, plus extra, to serve
1/4 cup fresh continental parsley leaves
Steamed wholemeal couscous, to serve
Steamed green beans, to serve
METHOD
Step 1

Heat half the oil in a large frying pan over medium heat. Cook the chicken, in 2 batches, for 5 minutes or until golden then transfer to a plate.

Step 2

Heat remaining oil in the pan. Add the mushrooms. Cook for 5 minutes or until golden. Add celery, shallot and garlic. Cook, stirring occasionally, for 3-5 minutes or until soft.

Step 3

Stir in the tomato paste and cook for 2 minutes. Add the wine and cook, scraping base of pan with a wooden spoon, for 2 minutes or until reduced by half. Add the tomato, stock and thyme. Bring to the boil. Return the chicken to the pan and simmer for 15 minutes or until sauce thickens slightly. Season. Stir in parsley. Serve with couscous and beans, sprinkled with extra thyme.